A History of Moulin De Boutineau
Around Perrusson, there were six watermills, most built on several small streams leading down into the winding River Indre. 
On the Indre itself, at a place known as La Brosse, now a very famous sheep's cheese (brebis) farm,  there were two mills, called the Moulin's Bodin.
In Perrusson village on a stream running west to the Indre is Moulin Battereau, open to the public one day a year, where the wheel turns and restored mill equipment still functions.
 Finally, to the north east of Perrusson, where a reliable stream named the Boutineau also joins the Indre, were two more mills, Moulin de Boutineau  and beyond that Moulin Gigault.
Le Moulin de Boutineau 
There has been a watermill here since at least the 1730's and probably even longer before that. When the 'Old Regime' of French King Louis 16th ended on the guillotine in the early 1790's, Moulin de Boutineau was owned by the Lord of Sennevières who had fled the country during the French Revolution.
With 'bread for the people' of great importance, it was seized by the new Citizens Regime and on 19 September 1793 they made an inventory and valuation.
 The tenant was a miller named Etienne Tortevix, and the site included a house, a barn with the mill, and entry into the courtyard by a large gate, all valued at 1,000 livres.
 It was however clearly in a bad state, as 13 items were listed on an estimate of 8,750 livres "with regard to repairs to be made to the said mill and buildings". Also noted was the presence of a "wheel with water cups", and that the water came from a pond above via "a sluice gate which still exists". 
With no action taken, the revolutionary authorities were notified again about repairs to the mill 'Bouttineau': "We consider performance of the said works as very urgent and given the almost impossible difficulties of haggling on the day, it is advisable to have them carried out under the supervision of a Commissioner appointed by the District Administration for this purpose". 
A Monsieur Richard, Commissioner appointed by the Executive Board of the District of Loches, reported: "For lack of urgent work it is at threat of future ruin" but he was of the opinion that if indeed repaired it could be "preserved while waiting to be sold".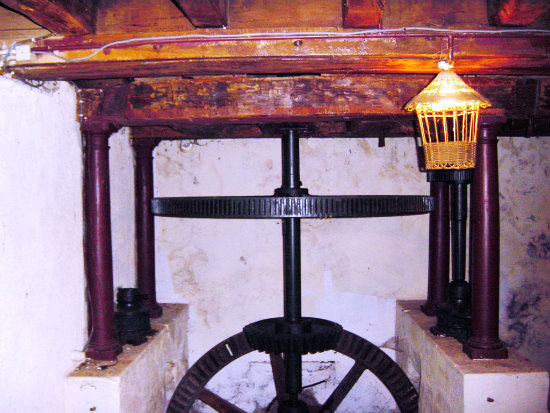 Anyway, the millers of the eighteenth century clearly lived in awful conditions! 
First recorded living here In 1734 are Louis Aubry and Marie Villeneuve. Louis was the son of Gilles Aubry, the miller at Moulin Battereau in Perrusson and later returned to work his father's mill. 
Living here from 1744 to 1793 were Etienne Tortevoix and his wife Marie Pasquier, sister of the miller at nearby La Brosse.  
Here from 1836 to 1861 was Jean-Martin Jourdain (b.26.09 1799) and his wife Jeanne Durand who married at Saint-Quentin-sur-Ie-Indrois on 2 February 1818. He was a son of the miller at Moulin de Chaume where he also worked, in the nearby village of Genille. 
By 1836 when he moved here, it is recorded they already had several children born while living in Genille and more followed who were born at Moulin de Boutineau as their parents lived here 25 years.
The Moulin Lake is believed to have been dug out and constructed by the Jourdain family around 1850 and this makes some sense given that in 1857 a dispute occurred between a Madame Desplaces  of Perrusson and the millers of Moulin Battereau  and Moulin de Boutineau about a construction by the latter of dams to irrigate the meadows bordering  two streams. The old plans name the fields here nearby as 'Pieces de Moulin de Boutineau'.
Permission to continue was finally given provided the conditions of use were restricted to "36 hours per week from Saturday evening at 6pm until 6am Monday morning and only from May 1st to November 1st of each year." 
By 1872 the miller was their son (Martin) Jean Jourdain (b. Genille 23.11.1820), and his wife Marie Boisse also the daughter of a miller. The couple worked here with Jules Jourdain her husband's brother. 
From 1881 to 1906 Jules Jordain was now the miller. He lived at Moulin de Boutineau with his wife Leopoldine Boisgard, but also with his parents and another married couple, his brother Hilaire Jourdain (b.1.4.1828) a coachman and his wife Petronille Fare, a cook.
Our thanks to Catherine Bas of the Touraine Genealogy Society for the fascinating early history, but it is not clear when after that in the 1900's the Moulin here stopped being a working mill, but a very old lady did visit us who remembered coming here as a young girl on a cart to mill sacks of corn with her grandfather before WW2.
The most recent owner was Pierre Le Gal, from Ville aux Dames who ran several charcuterie shops in the region and as a teenager was part of the Resistance in WW2. From around 1970 he used the Moulin with his family for summer holidays and weekend breaks, his boys fishing and boating on the lake. 
Only the ground floor with a basic kitchen and shower was used. The rest was left as it was, an old industrial mill building full of abandoned equipment. Any improvements were purely exterior as his wife loved gardening and planted many of the current trees, shrubs and bulbs, many of which revived after heavy pruning and clearing.
There are also around 60 red peonies – her favourite flower - which for a week in May still give a stunning display. However, after her death in the mid-1990's everything was left untouched for 10 years – which is when we arrived and began the modernization and transformation. The main old wheels and millstone still exist inside the house – just ask if you would like to see it!