How to get here
There are a number of possible travel options from UK for your carp fishing in France holiday at the Moulin Lake.
Much depends on budget, preferred timing and where you live in the UK.
Most guests who come here drive and use one of the many ferry crossings or the Eurotunnel.
It is however possible to fly to nearby Tours airport or even take a TGV train via Eurostar.
FERRIES
Ferry crossings from England offer several options, but you need to balance up cost, convenience to where you live, time spent on the ferry against driving time, plus the cost of any extra distance toll booth charges and fuel in France.
Brittany Ferries, DFDS and P&O Ferries are the three main ferry companies. The nearest French ports to us are Caen, Le Havre, Saint Malo and Cherbourg – all are between three to four hours drive from the Moulin.
Try to shop around and book your ferry crossing as early as you can to get the best possible price. Initially you can compare all the various options at www.channelferries.co.uk or www.aferry.co.uk
Brittany Ferries early morning or regular overnight service to Caen or Saint Malo take longer than their Economy service from Portsmouth to Le Havre (about 4 hours), or the fast boat 'Normandie Express' from Portsmouth to Cherbourg (around 3 hours). All are well worth considering.
These options leave between 3 to 4 hours drive, although motorway driving – indeed, any driving in France, once you get into it - is less stressful on quality uncongested roads than in UK.
With a leisurely stop or two this should ensure your arrival here at the ideal mid-afternoon time of 4pm on Saturday when your cottage is clean and ready and the Moulin Lake is waiting.
To visit the Brittany Ferries website click here
DFDS can be good value with decent facilities and the 90 minute crossings run regularly throughout each day from Dover to Calais or, twice a day from Newhaven to Dieppe.

To visit the DFDS website click here

P&O Ferries run flexible crossings from Dover to Calais throughout the day. We have had guests from northern UK who, to ease the hassle of driving to Dover or Portsmouth, used the Hull to Zeebrugge ferry into Belgium. As with most ferry companies, if you book early you get the best price.
To visit the P&O website click here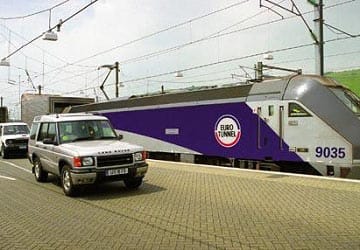 EUROTUNNEL
The fastest way to get to France is the Eurotunnel 'le shuttle' from Folkestone to Calais which only takes around half an hour with departures every 15 minutes throughout the day and night.
To visit the Eurotunnel website click here
DRIVING
Driving time to us from Caen, Le Havre, Saint Malo or Cherbourg is between three to four hours. From either the ferries or Eurotunnel at Calais to the Moulin Lake is around six hours with a stop, almost all on motorways.
One time-saving tip from Calais, go via Rouen on A28 - NOT to Amiens and via the Paris ring-road as suggested by many on-line or GPS route-finders!
Toll Booth ('Paege' in French) charges from the Normandy ports in the Caen area are about 50 euros. From Calais it is about 90 euros.
Some booths you press the green button, take a ticket, drive and pay at the end after inserting the ticket. Others you simply pay at the start. You can use euros or a credit card for either – it is read automatically. Remember also your front seat passenger will need to do all this!
The AA and RAC websites have lots of excellent up to date info about driving in France. The large size AA Road Atlas map of France is updated each year and great value in reserve for an overall picture – your satnav isn't always right!
Most find driving in France a real joy, but do get prepared before you leave.
Carefully check over your car, make sure you have insurance cover to drive in France, and definitely consider European Breakdown Cover.
Don't forget you also need stick-on headlight beam deflectors, and to bring your driving licence, log book or hire car papers.
Unique to driving in France, you must also have a lightweight fluorescent waistcoat, warning triangle and spare set of bulbs, all kept in the car, and not hidden in the boot.
BY AIR
Ryanair fly Mondays and Fridays and then almost daily during the summer season from Stansted to Tours Loire Valley airport. The flight takes a couple of hours.
By booking early you can secure some extraordinarily cheap deals, but they do charge extra for carp fishing gear which is classed as sports equipment.
Ryanair also fly to Tours from Dublin and some other UK cities during the summer months, while you can go from East Midlands to Limoges which is under two hour's drive from us.
To visit Ryanair.com click here
AIRPORT CAR RENTAL
Car rentals are run from the cabin outside Tours airport terminal building, but it is best to pre-book with your flight for a value deal. The Moulin Lake is then only 45 minutes away.
If you drive from the airport, use the A10 (follow signs to Bordeaux, off at exit 23 for Loches) to avoid going into Tours; remember to have a euro in cash for the toll-booth.
BY TRAIN
France's famous high-speed TGV rail network is fabulous and links over 60 destinations across France, but in our opinion is not an easy option unless you are planning to hire carp fishing gear here.
By Eurostar from London St Pancras you can either change onto the TGV at Lille, or continue to Gare-du-Nord in Paris, and take the metro to Montparnasse station for the TGV. You can book directly through to Tours (St Pierre des Corps station) from London via this website.